WHAT'S UP ?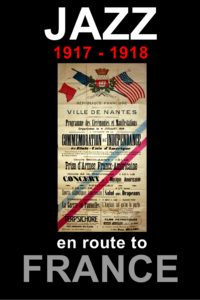 Take a closer look at the impact of World War One on the global spread of American jazz in a special lecture by Dr. Claus-Martin Walkstein. Hear the influence of the American Expeditionary Forces, military bands, the Red Cross and YMCA personnel stationed across France and how they contributed to the Paris "Années Follles" jazz craze.
Nov. 1, 2017 at 2 p.m.   –   The New Orleans Jazz Museum, New Orleans, LA
Nov. 2, 2017 at 6 p.m   –   Capitol Park Museum, Baton Rouge, LA
PAYS DE LA LOIRE

NEW ORLEANS JAZZ
From July 21st to July 24th 2017 in Quimper (Bretagne)For the 100th anniversary of the arrival of jazz music in Brittany with African American troops and their Brass Bands, a great event is organized, with Brass bands, concerts, films and documentaries projections and many other activities, to celebrate New Orleans, the place where jazz music was born.

FESTJAZZ at Châteauneuf-du-Faou, a traditional jazz festival in Brittany, one hour North of Nantes.

Les RENDEZ-VOUS DE L'ERDRE, Nantes.
The most important completely free jazz festival in France. Come by on Sunday afternoon for a traditional New Orléans revival jazz session with the MSY Second Line Centennial Jazz Band, featuring TREVOR RICHARDS (dr), THOMAS SANCTON (cl) AND MICHEL 'BOSS' QUERAUD (tp)